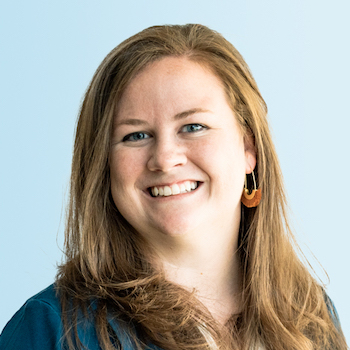 Caitlin Moses
Caitlin Moses stepped into the newly formed Director of Data Governance & Technical Care role within EAB's Enroll360 division in August 2021. In this role, she leads a talented team focused on supporting all aspects of the data exchange with EAB's undergraduate college and university clients. Caitlin began working with EAB in 2016 as a Data Steward and then became the Associate Director of the Partner Data Manager team in 2019.

Prior to joining EAB in 2016, Caitlin worked at Sidwell Friends School in Washington, DC. At Sidwell, Caitlin began as a Prospect Researcher in 2012, eventually becoming the Director of Advancement Services in 2014. In that role she managed a team responsible for all data entry, reporting and CRM maintenance. While at Sidwell, she also helped lead a migration of all advancement data to Salesforce.

Caitlin graduated from the College of William and Mary with a B.A. in American Studies and holds an M.A. from University College of London in Gender, Society, and Representation.